The humble precursor of what would become PK Steel Designs, LLC began in the winter of December 2004 in a detached garage in the Waldo neighborhood of Kansas City, Mo. Armed with a can of spray paint, a facemask, and a space heater coming from his home, Charles Brown applied a coating of Rustoleum to a metal coffee table which would serve as the impetus to form a steel furniture design, manufacture and retail operation with friend and co-owner Jakob Goldman. Formed in April of 2005, PK Steel has come a long way from that detached garage, which for the record did not catch on fire albeit the recipe for disaster was unknowingly in attendance.
PK Steel Designs, based in Kansas City, designs and manufactures commercial grade modern steel furniture that is built to last. Their work, which is often functional art, has graced many beautiful homes, lofts and office spaces, in addition to art galleries in the Midwest region.
We also offer furniture made of other ferrous and non-ferrous materials such as stainless steel and aluminum. There are no limitations. We provide custom design services as well. Dimensions, finish, and color can alter any piece. We have the ability to incorporate any type of material with our metal base whether it is granite, wood, glass, stone, or whatever. We will make it work.
You can also design a piece yourself. Your ideas can easily be transformed into furniture perfect for your living space. All furniture is made from 11-gauge steel that is generally more than twice as sturdy and durable than most steel furniture on the market today. Much of the steel furniture sold today is made from a grade of steel that is not as thick as 11-gauge and requires reinforcement, which is often disguised as a decorative feature. Our pieces have a sense of permanency rarely seen in furniture. There is no assembly required. You will never receive confusing directions on how to construct our end tables. PK Steel furniture arrives ready to be enjoyed. It's that simple. We could not have it any other way.
Most of our pieces are powder coated; an earth-friendly refined finishing technique first used in Australia in 1967. Paint broken down to a powder is applied, then heated (cured) to its melting point, after which it flows to form a smooth film which dries to a firm, durable finish, which is very resistant to scratches, cracking, peeling, UV rays and rust. The unique application characteristics of powder coatings provide superior consistency and uniformity of finish without sags, drips, runs, or bubbles. This finish is also suitable for outdoor furniture. Our pieces can be powder coated any color under the sun: yellow, black, green, orange, whatever you like.
We offer inherently eco-friendly furniture; steel is the #1 recycled material in the U.S. Powder coating is a process that emits zero or near zero volatile organic compounds into the environment, which cannot be said of liquid finishes. When you buy furniture from PK Steel, you have reduced your carbon footprint on the world we live in today. A carbon footprint is a "measure of the impact human activities have on the environment in terms of the amount of greenhouse gases produced, measured in units of carbon dioxide". It is meant to be useful for individuals and organizations to conceptualize their personal (or organizational) impact in contributing to global warming. In addition, our furniture line will endure for many years, further perpetuating the fact and idea of carbon foot print reduction. If you buy a PK Steel coffee table, you will not need to replace it in 5, 10 or even 20 years.
In addition, upon request some of the pieces we offer are clear coated to reveal the steel underneath.
>> Our clear coat pieces are sanded or brushed.
Sanded - The steel is sanded by hand, leaving a confluence of sheen and dark marks. The subtle variance is noticeable upon closer viewing, adding uniqueness to the piece.
Brushed - A clean uniform finish that shows the naked, bare steel below. This look is very traditional for steel furniture.
Most pieces come sanded unless other finishes are selected. Each piece has Magic Sliders® on the bottom of each leg to allow easy moving across any surface. Adjustable feet are also available upon request.
Every piece of furniture we produce has a ¾ inch "PK" sandblasted or painted on it to authenticate our workmanship.
Please feel free to contact us. We are easy. We are here for you. Ask us for referrals to confirm what the PK Steel experience is like; you will not be disappointed.
Charles Brown and Jakob Goldman own the company in partnership. Both are lifelong residents of the Kansas City area. Charles Brown grew up in Overland Park, KS, and attended Shawnee Mission North High School, while Jakob Goldman grew up in Kansas City, MO, and attended Southwest High School. Our former welder, PK, was part of the first graduating class of Shawnee Mission North High School; until then the school had been named Shawnee Mission Rural High School from the time it was built in 1922. He is the sole inspiration on how this company started. He will never be under appreciated.
Charles Brown graduated from Shawnee Mission North High School in Shawnee Mission, Kansas in 1996. He received an undergraduate degree in Psychology from the University of Missouri-Kansas City in 2001. He also earned a Masters in Business Administration from Mid-America Nazarene University in Olathe, Kansas in May of 2004. He has was an Insurance Adjustor for the six years before he decided that listening to how and why an auto accident occurred became incredibly unrewarding. His interests are talking about music, watching Seinfeld and ESPN, listening to music, listening to women, reading the Kansas City Star, photography (Visit www.digitalartkc.com), and listening to his Mom's advice. His favorite movie is Buffalo 66, written and directed by Vincent Gallo. His favorite band is Led Zeppelin. His favorite songs of the last 6 months: "The Revolution Will Not Be Televised" by Gil Scott-Heron and "Heart of the Sunrise" by Yes. .
Jakob Goldman graduated from Southwest High School in Kansas City, Missouri in 1993. After High School he spent 4 years at Syracuse University and graduated in 1997 from with majors in Geography and Policy Studies. For 3 years Jake was with TransPar Group, a transportation consulting company in the Kansas City area. For 6 years he worked as a cartography technician with GARMIN, a GPS company based in Olathe, KS. Recently, Jake accepted a GIS Specialist II position with the Mid-America Regional Council (MARC). In 2007 he finished a Masters in Geography from the University of Kansas. Jake enjoys being active, listening to music, playing drums and spending time with his daughter. Currently, his favorite bands are Television, Gomez, Talking Heads, Tom Tom Club, TV on the Radio, Eagles of Death Metal and Queens of the Stone Age.
PK, our major influence in this company is a man who has been welding for 40 years. His leadership and mentorship cannot be overstated. He truly is a master welder, and a great man. Thank you PK!
Press
Kansas City Star - May 15, 2005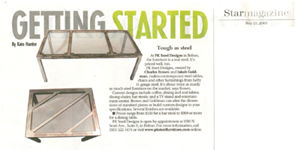 The Wednesday - Nov. 23, 2005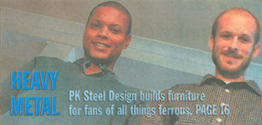 Kansas City Small Business Monthly - Jan. 2006 Vol. 15 Issue 1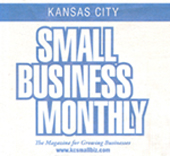 Kansas City Homes and Gardens - February 2006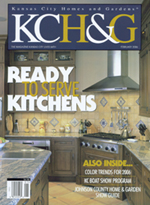 The Overland Park Sun - February 9, 2006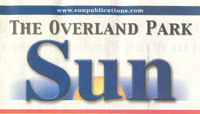 Awareness Magazine - March / April 2006 Vol. 13, No. 2

ACCENT - MidAmerica Nazarene University - Spring 2006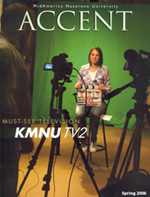 Kansas City Star - July 2, 2006

Kansas City Jewish Chronicle - August 4, 2006

KMBC-TV News - September 2006

Kansas City Homes and Gardens - October 2006

Kansas City Live - Sept. 27, 2006
Kansas City Star Neighborhood News - Sept. 30 & Oct. 4, 2006

Kansas City Star Neighborhood News - continued page 4
Press Release - January 30, 2007 PK STEEL DESIGNS ANNOUNCES.....
New Homes Journal - January & February, 2007

verge - Spring, 2007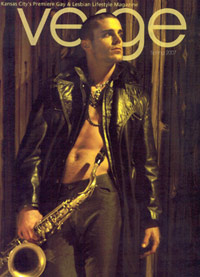 verge - continued....
eco-structure - May / June 2007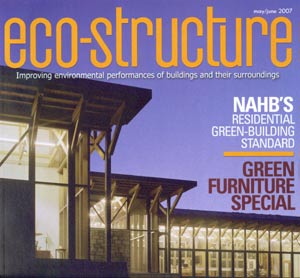 URBAN TIMES - December 2007/ January 2008
Click to view article (please scroll to page four, zoom in to read)
HomeDesign - July / August 2008

Commercial Journal - August / September 2008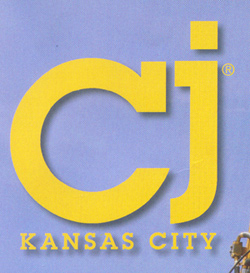 Present Magazine - August 26th, 2008
Ink - October 1st, 2008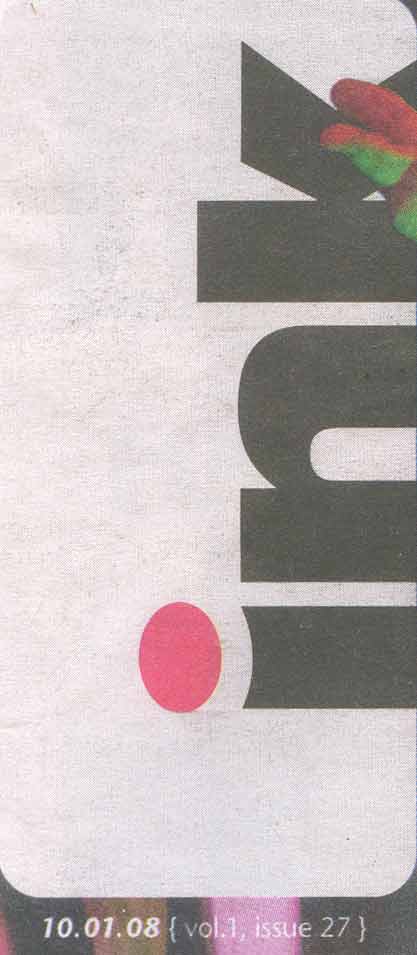 Ink - December 3rd, 2008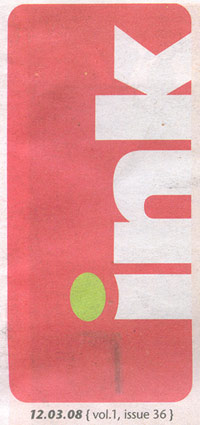 HomeDesign - January / February 2009

HomeDesign - continued page 2 , page 3 , page 4
Ink - April 1st, 2009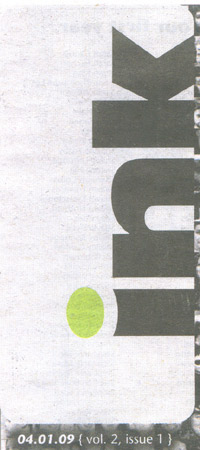 The Kansas City Star - April 12, 2009

Kansas City Homes and Gardens - October 2009

Kansas City Star Magazine - March 21, 2010